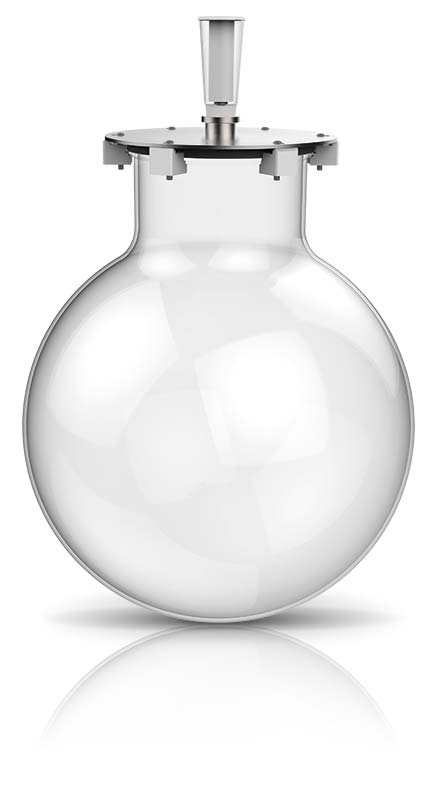 What is a Wineglobe?
Famille Paetzold imagined, created and developed a new technical and original vessel for winemaking, aging and keeping white, red and pink wines: the Wineglobe.
It's a round-shaped glass vessel that holds over 200 liters in transparent borosilicate glass.
When should you use the Wineglobe?
The 220-liter glass vessel Wineglobe is currently used for:
• Making and aging white and pink wines
• Only for aging red wines. Indeed we don't currently have the suitable tools to ensure optimum racking and clarification.
The use of the Wineglobe for stocking and maturing wine is still under research by our R&D department.
For which kinds of wine?
Wineglobes can be used as vessels to hold red, white, and pink wines and for base wines for sparkling wines.
Our glass vessels are certified food safe.
What is a Wineglobe made of?
Wineglobe is made of borosilicate glass, (known as Pyrex), which is more resistant that soda-lime glass (used for wine bottles).
Who makes the Wineglobes?
The 220-liter Wineglobes are purchased from a glass blower. Quantities are limited since the production of one piece requires 4 blowers that are submitted to temperatures over 1,500°C.
Since 2017, we have decided to manufacture our own glass vessels for wines. We began the internal development of its creation, production process and manufacturing. We hope to launch our first 400-liter Wineglobes by the beginning of 2021.
Is it fragile?
The glass used for making our Wineglobes is borosilicate, the strongest and most resistant glass.
Under normal conditions of use, the vessel is unbreakable. It is sufficiently thick and its surface is entirely homogenous; it can sustain shocks (such as hooking up hoses) and 0.5 bar pressure.
However, it is important not to use scourers such as steel wool pads or unprotected mechanical tools to clean the glass vessel.
Managing reduction in the Wineglobe
Since glass is a material that has nil porosity, no addition of oxygen takes place. You could therefore expect a closure of aromas and flavors or a reduction (as in stainless steel vats).
However, all Wineglobe users are unanimous: there is absolutely no reduction during winemaking without any addition of oxygen (neither from the vessel itself, nor from the outside). It is extremely surprising to note that in this glass vessel wine evolves without any oxidation or reduction. Without being subjected to such phenomena, the wine doesn't appear tight; it's lively and dynamic and evolves slowly without wearing down the aromatic and flavor potential.
The results we have had over the past 5 years demonstrate an evolution of classical oenology: there are other phenomena than oxygen to ensure an absence of reduction in wine. It's a considerable breakthrough, which our R&D team is currently working to explain.
Managing SO2 in the Wineglobe
Compared with barrel aging, Wineglobe users note an average decrease of total SO2 by 25% to 50%.
Temperature management in the Wineglobe
Glass isn't a strong thermal conductor (such as concrete).
Generally speaking, less temperature variation is noted in our glass vessels. Fermentations might be slower (not languid, nor halted, but simply longer).
How to deal with light?
We have chosen to retain the transparency of glass for our vessel as we think it allows a harmonious evolution of wine without any reduction. However, that implies giving thought to the taste of light issue.
That deviation can occur in the presence of vitamin B2 (Riboflavin) and a certain wavelength (blue light). Although no occurrence of taste of light has yet been noted, it is advisable to take simple precautions to avoid any chance of losing the purity of wine.
Protective covers are provided for free at purchase or rental to shield the Wineglobe vessels from light.
Please do not hesitate to contact us for further information on this topic.
How do you use the Wineglobe?
The Wineglobe can be used two ways:
– as a barrel : filled to the brim with a bung
– as a vat with an airtight lid
All of the usual oenological tasks (filling, racking, retrieving samples, etc.) are performed as they are with existing vessels.
What about ensuring safety?
For vintners who use it filled to the brim with a bung, there is no risk of the glass bursting under pressure.
For those who use a gas headspace, because the lid is locked, a gas escape will need to be organized and anticipated for filling, inerting, fermenting and stocking. In order to prepare for those contingencies, a calibrated security relief valve certified for overpressure of 0.4bar±0.1 (0.4MPa±0.1) is attached to the lid.
How to wash the Wineglobe?
Because of its sturdiness, the glass vessel can easily withstand a high pressure water prewash. Thanks to its smoothness, the Wineglobe is easy to clean with water (cold or hot). Some users completely forget about chemical products and/or thermal actions.
However, the vessel is compatible with the cleansing products and disinfectants classically used in wineries: chlorine, hydrogen peroxide, peracetic acid, alcohol, quaternary ammonium.
Pollution and environment
No transfer of elements into the wine
The winemaking industry uses a great deal of material for vinification, aging and stocking wines. Wine vessels and their materials have considerably evolved over the centuries. Nevertheless, the innocuity of those vessels is sometimes far from neutral for wine. Acid base attacks impart surface corrosion and modify roughness and porosity. The amount of time and number of cleaning cycles piles up over the years so that the surface of the materials opens and induces a transfer of elements into the wine.
Glass remains the exception because it's entirely vitrified. It stands out as the material that displays the best innocuity for winemaking; it's inert, non-toxic and gas and smell-proof. Those qualities last for hundreds of years. Even after being washed repeatedly, our glass vessels won't transfer any polluting agents into the wine.
No glue
We are intent on protecting the environment as well as the quality of the final product. We're always seeking solutions that rule out any pollution possibility, in order to avoid affecting the balance of a wine or the consumer's health. Thus, we have chosen to make glass vessels in one piece, without assembly, to avoid any chance of aromatic or flavor or chemical impact (no glue).
Reducing pollution: less water and chemicals used
The wine industry currently uses 0.5 to 10 liters of water per liter of wine produced, mostly for cleaning the vessels. Our alternative brings that amount drastically down since a Wineglobe only needs between 0.05 to 0.1 liters of water per liter of wine (no porosity, weak resistance to descaling or removing deposits).
Moreover, the Wineglobe reduces water pollution impact thanks to the absence of cleansing or thermal agents.
Using lasting materials
Glass is a lasting material that withstands time. Wineglobes have an infinite lifespan and can be used forever.