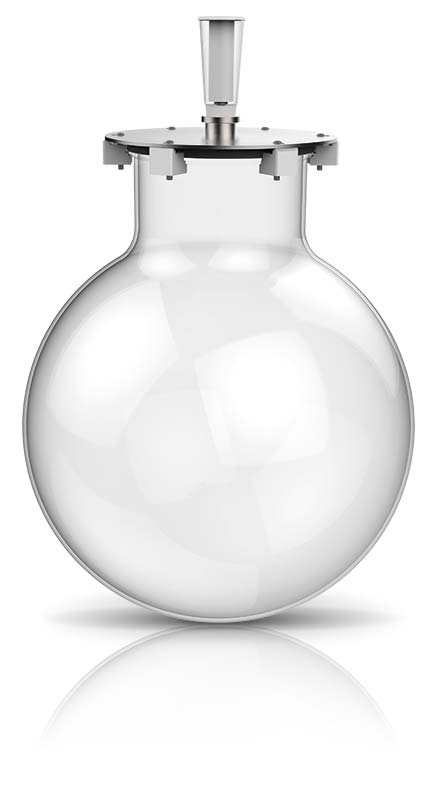 What is a Wineglobe?
Famille Paetzold imagined, created and developed a new technical and original vessel for winemaking, aging and keeping white, red and pink wines: the Wineglobe.
It's a round-shaped glass vessel that holds over 200 liters in transparent borosilicate glass.
When should you use the Wineglobe?
It the only container suitable for every winemaking step: vinification, aging and long-term aging.
In practice, we recommend using it for:
fermentation and aging white and pink wines,
aging red wines.
To date we don't yet have the tool for:
fermentation red wines: to make it easier to running off the vessel and vatting
maturing and stocking wines in a long-term way: We are developing a long term closure
For which kinds of wine?
Wineglobes can be used as vessels to hold red, white, and pink wines and for base wines for sparkling wines.
Our glass vessels are certified food safe.
Is it fragile?
The glass used for making our Wineglobes is borosilicate, the strongest and most resistant glass.
The vessel was created to use in a cellar and to be very resistant under normal use.
However, it is important not to use scourers such as steel wool pads or unprotected mechanical tools to clean the glass vessel.
We have created accessories for secure handling.
How can a Wineglobe be financed?
Depending on the country possible to have investments subsidy/grants or H&A renting : rent over 2 to 5 years (then transfer or ownership)
How do you use the Wineglobe?
Globes are designed to be filled to the brim (like barrels)
There is a lid with bung and bubbler. In case of temperature or pressure variation, the bubbler will regulate wine variations (siphon mechanism).
Please note the bubbler must be filled on the bung (to avoid excessive pressure and possible explosion).
All the usual oenological tasks (filling, racking, retrieving samples, etc.) are performed as they are with existing vessels.
How to wash the Wineglobe?
Please wash the globe without the lid and be careful with the wet stand (slipping risk). We suggest using our cleaning stand or our harness to be able to securely turn it upside down.
Please wash the globe immediately after use to maintain transparency.
We recommend washing it manually with a sponge or with high pressure cleaning (the glass can stand it). You don't require disinfecting or sulfuring like barrels (even if the glass stand it)
Because the glass vat is smooth, it's super easy to clean and descale. Only a few liters of water are needed to clean it thoroughly (cold or hot). Some users completely forget about chemical
products and/or thermal actions.
Thus, on average, the amount of water used is half less. The complete lack of porosity considerably decreases any chance of residual cleaning agents. The transparency of our aging vessel allows perfect visual monitoring.
However, the vessel is compatible with the cleansing products and disinfectants classically used in wineries: chlorine, hydrogen peroxide, peracetic acid, alcohol, quaternary ammonium.
The only obligation is to avoid abrasive agents (tamponjex) and cleaning ustensile that can scratch the globe (Just beware of inox nosels (embout)).
How move the Wineglobe full?
We have specific stands to move it full of wine with a forklift:
a concrete stand,
a wooden box.
How move the Wineglobe empty?
The Wineglobe weigh less than 35KG. It is easy to move manually.
We recommend using our harness to move it securely. It has 8 handles to move it with 2 people.
You can also turn it upside down to dry it.
Managing reduction in the Wineglobe
The lid and seal were designed to make the tank completely oxygen-proof.
The Wineglobe can be used without adding any oxygen, yet the resulting wines show no reduction.
Depending on the desired result, you can however add a small amount of oxygen (racking, stirring of the lees, micro-ox…).
Temperature management in the Wineglobe
Since the thermal conductivity is close to that of concrete, the glass vessel has good temperature stability.
Managing SO2 in the Wineglobe
Compared with barrel aging, Wineglobe users note an average decrease of total SO2 by 25% to 50%.
Managing lees in the Wineglobe
The presence of lees depends on the desired style.
Nevertheless, since there isn't any gas exchange, the reductive function of lees is less purposeful. Experience shows that wine can be made with a lesser amount of lees and less stirring up.
The vessel being spherical, the resuspension of lees by convection is slighter. The Wineglobe enables very good wine clarification by sedimentation.
Managing light on the Wineglobe
We decided to keep the glass of the Wineglobe transparent because we think it is beneficial for a wine to thrive harmoniously.
However we do suggest working away from light.
Although no alteration whatsoever has been noted over the past 5 years, we suggest equipping your facility with a suitable light, or using the covers provided with the vessel.
Generally speaking, a Wineglobe filled with white, red or pink wine should not be subjected to natural light (except specific wines). You should also be careful with LED lights – they use a lot of blue light, which is responsible for the taste of light.
Pollution and environment
No transfer of elements into the wine
The innocuity of those vessels is sometimes far from neutral for wine. Acid base attacks impart surface corrosion and modify roughness and porosity. The amount of time and number of cleaning cycles piles up over the years so that the surface of the materials opens and induces a transfer of elements into the wine.
Glass remains the exception because it's entirely vitrified.
Even after being washed repeatedly, our glass vessels won't transfer any polluting agents into the wine. 
No glue
We are intent on protecting the environment as well as the quality of the final product. We're always seeking solutions that rule out any pollution possibility, in order to avoid affecting the balance of a wine or the consumer's health. Thus, we have chosen to make glass vessels in one piece, without assembly, to avoid any chance of aromatic or flavor or chemical impact (no glue).
Reducing pollution: less water and chemicals used
The wine industry currently uses 0.5 to 10 liters of water per liter of wine produced, mostly for cleaning the vessels. Wineglobe only needs between 0.05 to 0.1 liters of water per liter of wine (no porosity, weak resistance to descaling or removing deposits).
Moreover, the Wineglobe reduces water pollution impact thanks to the absence of cleansing or thermal agents. 
Moreover, the Wineglobe reduces water pollution impact thanks to the absence of cleansing or thermal agents.
Using lasting materials
Glass is a lasting material that withstands time. Wineglobes have an infinite lifespan and can be used forever.