ENTRUSTE WINE TO GLASS, AN OBVIOUS MATCH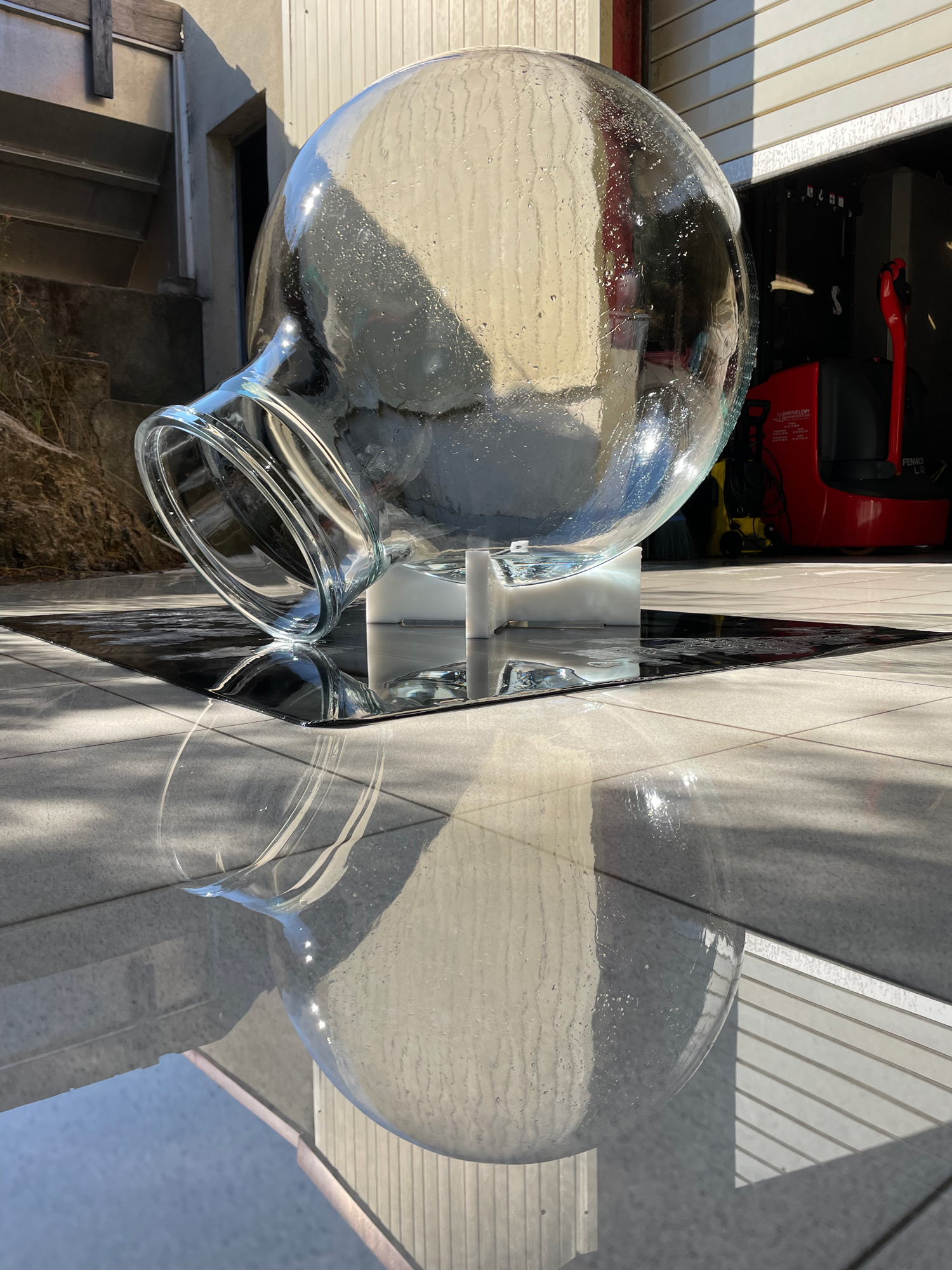 Since the 18th century, we have been entrusting wine to glass bottles. Because it's a neutral material, glass is known and recognized for harmonious wine aging and evolution.
It's a beautiful and obvious match that needs no further proof.
As wine is and aged for long periods, it is essential to choose the right container material. As glass is considered as the purest and safest material for food contact, Wineglobe won't transfer any polluting agents into the wine and it preserve aromas and taste.
The glass used for making our Wineglobes is borosilicate, the purest, strongest and most resistant glass.Therefore, it is the first vat that is entirely inert, smooth, impermeable, neutral and unalterable over time.
And to make wine, why use a material different from the one we choose for cellaring it… and drinking it?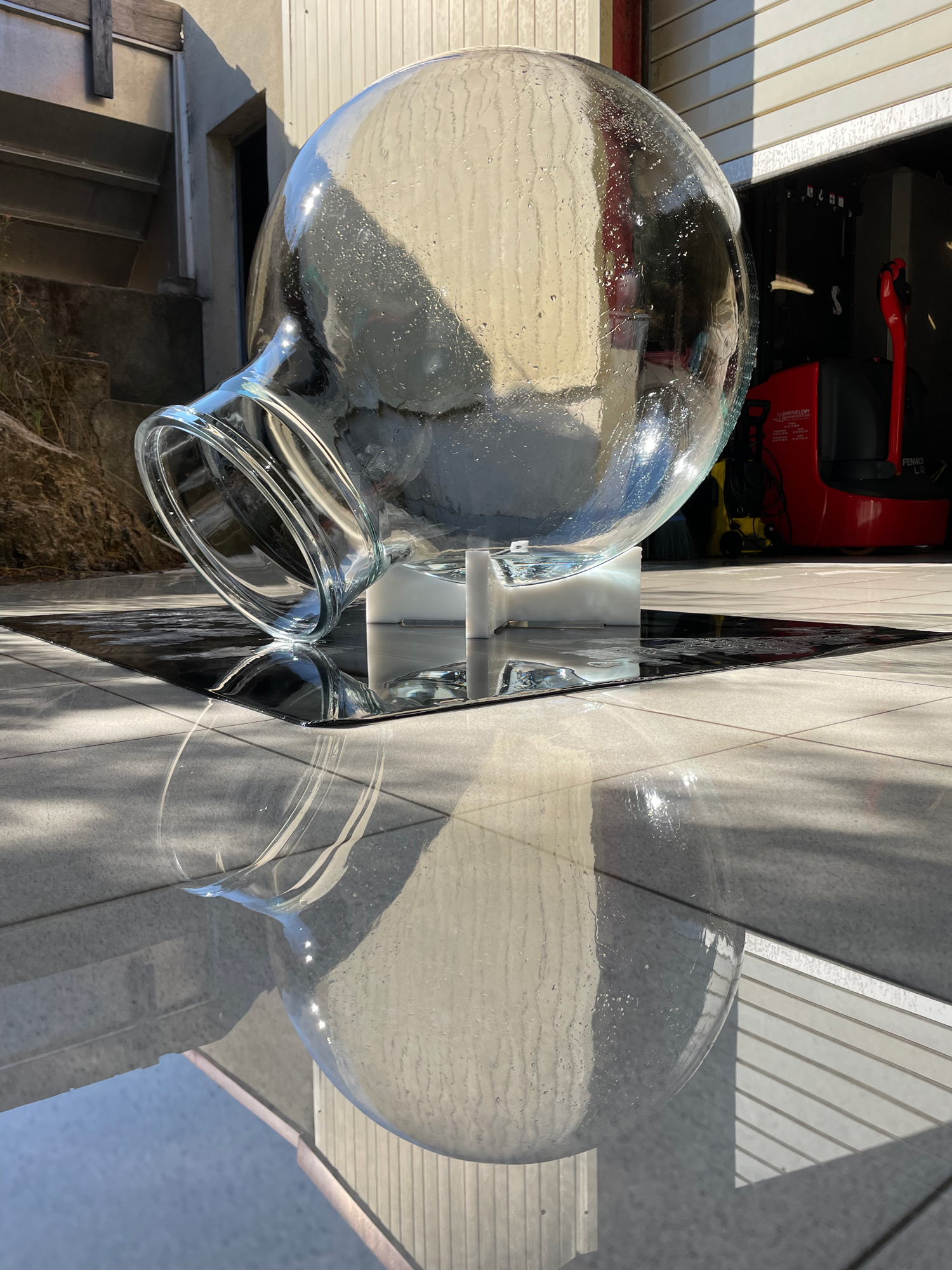 Depuis le 18eme siècle, nous confions le vin à la bouteille en verre. Par sa neutralité, le verre est un matériau connu et reconnu pour le vieillissement et l'évolution harmonieuse des vins.
Cette relation n'est plus à prouver.
Le vin étant élevé et vieilli pendant de longues périodes, il est essentiel de bien choisir le matériau du contenant. Le verre étant le matériau considéré comme le plus pur et le plus sûr pour un contact alimentaire, Wineglobe garantie l'absence de migration chimique et la préservation des arômes et du goût.
Le Wineglobe a été créé à partir de verre borosilicaté, le plus pur des verres utilisables et celui qui assure la matrice vitreuse la plus résistante. C'est donc la première cuve parfaitement inerte, lisse, imperméable, neutre et inaltérable dans le temps.
Pourquoi utiliserait-on pour élever le vin un matériau différent de celui qu'on plébiscite pour le conserver… et le boire ?
THE ADVANTAGES OF WINEGLOBE
FOR PURE AND UNADULTERATED EXPRESSION
In a Wineglobe, wine tells everything about its 'terroir', varietal characteristics and the work involved. The absolute neutralness of our glass-made vessel enables full expression of your grapes.
NO REDUCTION
The globe was designed to make the tank completely oxygen-proof. In the absence of these phenomena, the wine isn't still; it's lively and dynamic and evolves slowly without any decrease of its aromatic and flavor potential.
Wineglobe allows an oxidation without oxygen in order to obtain a present and lasting expression.
BLENDING
When blended with a wine aged in a wooden vessel, the wine aged in a Wineglobe has a very positive impact on complexity thanks to the purity of its aromas and flavors, its radiance and its freshness.​
FOR EVERY WINEMAKING STEP
It is the only container suitable for every winemaking step: vinification, aging and long-term aging. The Wineglobe enables you to exceed the contents of a bottle of wine to enjoy pure, homogenous and harmonious aging, without worrying about cork-related issues up until the launch.
Expression pure et originelle du raisin
Dans un Wineglobe, le vin dit tout de son terroir, des caractères du cépage et du travail accompli. La pureté et la neutralité du verre sont au service d'un élevage attentif et précis afin d'exprimer la beauté du raisin.
Complémentarité avec la barrique
En assemblage avec un vin élevé sous-bois, le Wineglobe participe très favorablement à la complexité par son éclat, sa fraîcheur et sa longueur en bouche.
L'absence de réduction
La cuve a été conçue pour être hermétique à l'oxygène. Le vin n'est pas figé, il est vivant, dynamique et évolue lentement sans usure du potentiel aromatique. Nous proposons une oxydation sans oxygène afin d'obtenir une expression présente et pérenne dans le temps
Pour toutes les étapes du vin
C'est le seul contenant qui peut être utilisé à toutes les étapes du vin : vinification, élevage mais aussi vieillissement à long terme. Wineglobe vous permet de dépasser la contenance d'une bouteille de vin en allant vers un vieillissement pur, homogène, harmonieux et ainsi s'affranchir des risques associés au bouchon jusqu'à la mise en marché.
ETERNAL AND LASTING
Made of unalterable glass, our Wineglobe vat is intended to last several decades.
It is a noble and eternal material since we have been entrusting wine to glass bottless for hundreds of years. Glass fits naturally into cellars.
TRANSPARENCY
You can actually see the wine evolving in our transparent vessel instead of looking down from the top. Tasks such as filling, racking or oenological observations (lees sedimentation, wine turbidity, onset of MLF, etc) are a lot easier to perform.
NO RELEASE OF ELEMENTS INTO THE WINE
Thanks to its pure composite material, its complete lack of porosity and its tight atomic matrix, the glass globe withstands aggressive chemicals on the long run. Even after having been washed numerous times, our vessel doesn't release any polluting agents into your wine.
LIKE A BARREL
Globes are designed to be filled to the brim (like barrels). There is a lid with bung and bubbler. All the usual oenological tasks (filling, racking, retrieving samples, etc.) are performed as they
are with existing vessels.
THE ADVANTAGES OF ZERO POROSITY
FLAWLESS HYGIENE
Thanks to its extremely smooth surface, the Wineglobe prevents development of microorganisms so you can forget about related aromatic and flavor deviations.
DECREASE IN USE OF SO2
Compared to barrel aging, users have noted an average 25% to 50% decrease of total SO2 use.
WATER SAVINGS
A few liters of water are enough to clean it perfectly and thus divide the water consumption by 10 for the whites and by 5 for the reds compared to the barrel. The Wineglobe even eliminates the use of chemical cleaning products and reduces water pollution.
EASY TO CLEAN
Because the glass vat is smooth, it's super easy to clean and descale. Only a few liters of water are needed to clean it thoroughly. The complete lack of porosity considerably decreases any chance of residual cleaning agents. The transparency of our aging vessel allows perfect visual monitoring.
NO LOSS AND NO TOPPING
The Wineglobe avoids loss of wine as there is no topping up needed. Beyond the financial importance, this preservation of volumes allows the whole harvest to be valorised.
EASY EMPTY STORAGE
The Wineglobe can be stored empty over a long period. That allows for easy vessel management without worrying about bacteria developing when empty.
One of the more important advantages is the absence of porosity in glass. I add SO2 at the end of the alcoholic fermentation to get 20 to 25mg/L of free SO2, then there's nothing left to do. As a result, the total SO2 stays low, which is noteworthy. It is much easier to clean than wood, there is no scale.